Juvenal Sansó
Spanish by birth, Filipino at heart

(See Chronology and One-Man Shows)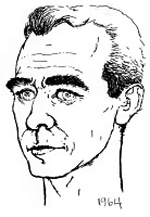 Juvenal Sanso was born in Reus, Catalonia, Spain in 1929, but moved to Manila five years later, where his family established El Arte Espanol, a wrought-iron business. The young Sanso spent his boyhood in Paco and had many wonderful memories of halcyon days swimming in the Pasig River and family outings to Montalban in Rizal.
The blond and blue-eyed young Sanso learned to speak Tagalog fluently and freely mingled with boys his age, forming many lasting friendships, with Henry Sy, foremost among them.

It was an unusual childhood for Sanso but as Nick Joaquin said "There were other things to remind him that he and his family were 'different'". They had unorthodox religious beliefs; not only that, the children were home schooled. And though there were other Spaniards in town, the Sansos did not associate with them, as many of them were Castellian and the Sansos were Catalunians. More so, many of the Spanish community in the Philippines supported Franco while the Sansos were strongly anti-Fascist.

When World War II broke out in the Philippines, the wrought-iron business of the elder Sanso was ruined the elder Sanso having refused to work for the Japanese war effort. The elder Sanso embarked on an entirely new business: he constructed horse-drawn buggies in the "dokar" style using car tires for wheels. When Liberation came, they plied the streets in a home-made bus with his son Juvenal serving as conductor on the Santa Ana to Quiapo route.

The war years left scars on the sensitive artist's soul. From his idyllic childhood in Manila, he experienced privations and came upon the ruins of his beloved city devastated by bombs. "I had a very traumatic experience as a result of the War. Our fortunes were destroyed, my family had to flee back and forth between Montalban and Sta. Ana, and I myself suffered severe injuries when an artillery shell blasted through our house during the liberation. I'm still deaf in one ear because of that," Sanso said.

This resulted in Sanso's Black Period when he painted exclusively in black and white with gruesome imagery and hideously deformed beggars.

Sanso's first art teacher was Alejandro Celis. His father thought that such artistic training would be of great help when Juvenal took over the wrought iron business. But it was not to be so. The young man realized that his true vocation was not in wrought iron but in painting. He was able to persuade his father to enroll him as a special student at the University of the Philippines School of Fine Arts. It was to be his only experience of formal schooling. At the UP School of Fine Arts he studied under such professors as Fernando Amorsolo, Dominador Castaneda and Ireneo Miranda then he took special classes at the UST.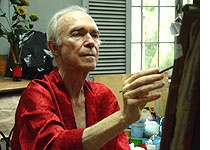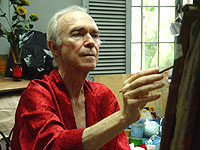 The years 1950 and 1951 were turning points for the talented young artist. During the first year, his work "Incubus" won first prize in the watercolor category of the Art Association of the Philippines competition. He repeated the feat the following year with "Sorcerer" which won first prize in the AAP oil category. During the same year, he also won third place in the Shell Art Competition and left for further studies in Europe at the Academia di Belle Arti in Rome after establishing residence in Paris. He also enrolled at L' Ecole Nationale Superieure des Beaux-Arts.

Sanso held his first one-man show in Paris then came back to Manila in 1957 for his first local one-man show at the Philippine Art Gallery. After that, he continued traveling extensively and holding solo exhibitions in Italy, the United States, England and Mexico, regularly coming back to Manila for occasional shows. In 1964, another significant year, his works "Leuers " was adjudged Print of the Year by the Cleveland Museum of Art, giving Sanso the distinction of previous winners like Henri Matisse and Salvador Dali. In the same year he held a major all-media one-man show at the Cleveland Museum of Art, as well as one-man shows at the prestigious Philadelphia Print Club and New York's Weyhe Gallery.

In 1966, Sanso had a 20-year retrospective show at the Makati Commercial Center. In 1974, a 25-year retrospective was held at the Cultural Center of the Philippines. In 1976, in commemoration of the Manila World Bank and the International Monetary Fund summit meetings, Sanso held a one-man retrospective of some 1,000 works, released a portfolio of 10 lithographs on Philippine subjects, and was the subject of a book written by Alejandro Roces. In 1989, he made a milestone by doing six simultaneous exhibits in Manila at the Metropolitan Museum, the Lopez Museum, the Ayala Museum, the Center Cultural de Espaha, the Alliance Francaise and the Finale Art File.

In 2009, he marked his 80th birthday with a series of shows in some of the premier venues in the county such as Galerie Stephanie, Mandarin Oriental Suites in Gateway Mall in Cubao, and at the SM Art Center.

In his latter years, the angst-filled grotesqueries of his Black Period of surreal bouquets of faces and heads were eventually replaced by genuine blooms in the most striking shades of red, green, orange and blue. His catharsis came in the mid fifties when he spent summers vacationing in the Brittany coast with the Le Dantec family, a lifelong friendship that was a balm to his soul.

A multi-faceted artist, Sanso has through the years, painted oils, watercolor, acrylic and his favored ink and dry brush medium. He has produced fine etchings in a very dynamic, strong-lined style. He has also distinguished himself in textile design, print making and photography, as well as designed sets and costumes for several operas in France and in the Philippines. Sanso is one of the most innovative, respected and highly in demand artists today.

As a way of giving back to the art community in his adopted country, Juvenal Sanso has played a significant role in encouraging young Filipino artists to excel in their field. From 2008 to 2009, he served as artist in residence for the Art Interaction program of the Shell National Students Art Competition. In 2015, upon his guidance and with his generous support, the Fundacion Sanso (Sanso Museum) was established in San Juan City.

After 50 years of living in Paris, in 2008, Juvenal Sanso, although he maintains a studio in Spain and in Iran, decided to come home and establish permanent residence in his beloved Manila.
Major Awards and Distinctions


Juvenal Sanso has won critical acclaim all over the world but of all the accolades he has received in his illustrious career, he cherishes most the awards given by the three countries that have been home to him. Among these are:

The Presidential Medal of Merit, awarded by President Gloria Macapagal Arroyo to Juvenal Sanso on May 20, 2006. It is the most prestigious award given by the Philippine government to an artist for his invaluable contribution to visual arts in the country.

The Distinguished King's Cross of Isabela was awarded to Sanso by the Spanish King Juan Carlos on January 8, 2007. The award was given in recognition of his exemplary work across national boundaries. It is akin to a knighthood or to the Member of the British Empire given by the Queen of England.

The Chevalier de l'Ordre des Arts et des Lettres was conferred on Sanso on February 26, 2008 by the Ministry of Culture and Communications of the Republic of France.
Sanso's works are in the following Collections
Museums
Museum of Philippine Art
Cultural Center of the Philippines
National Museum, Manila
Ateneo Art Gallery, Manila
Musee d Art Moderne, Paris
Cabinet des Estampes de la Bibliotheque Nationale, Paris
Collection de la Ville de Paris
Museo de Arte Contemporaneo, Madrid
Smithsonian Institution, Washington
Rosenwald National Gallery, Washington
Library of Congress, Washington D.C.
National Collection of Fine Arts, Washington D.C.
Metropolitan Museum, New York
Museum of Modern Art, New York,
Brooklyn Museum, New York
New York Public Library
Baltimore Museum
Achenbach Foundation, San Francisco
Chicago Art Institute
Cleveland Museum of Art
Philadelphia Museum of Art
San Francisco Museum
La Jolla Art Center, San Diego
Rosenwald National Gallery, Washington
Rhode Island School of Design Museum
Allen Museum, Oberlin College
Princeton University
Yale University, New Haven
Private Colletions
Former President and Mrs. Ferdinand E. Marcos
President Gloria Macapagal Arroyo
President Soeharto
Georges Auric
Count de Sabran
Countess Pastre
Valerian Rybar
Jean Francois Daigre
Princess Chumbhot of Thailand
Jean Cocteau
Gabriel Dussurget
Prince Michel of Greece
Gian-Carlo Menotti
William Pahlmann
Nelson E. Rockefeller
Isabel de Rouault
Baroness Edouard de Rothschild
Dunoyer de Segonzac
Elsa Schiaparelli
Vincent Price
Joseph Pulitzer, Jr.
John Newberry
Oliver B. Jennings
Dorothy Hales-Gary
Mrs. Murtogh David Guiness
Fernando Zobel de Ayala
Alfonso Osorio
John Schlesinger
William McCormick Blair
Henry and Hans Sy
The Lopez Foundation
Jack Teotico