June 17, 2011

INTERNATIONALLY RENOWNED MODERN MASTER SANSÓ
EXHIBIT OPENS IN SINGAPORE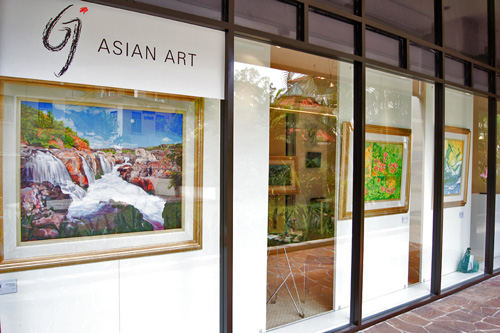 If there is one thing the Museum of Modern Art (MOMA), Musee d'Art Moderne de la Ville de Paris, Princess Chumbhot , Nelson A. Rockefeller and Baron Edouard de Rothschild have in common, it's the valuable collection of internationally celebrated Filipino contemporary artist Juvenal Sansó (b.1929).

Sansó belongs to the Modernist School of Philippine art, with its emphasis on abstracted figurations, emotional expressionisms, and experimental techniques and colorations. His contemporaries include Modernist icons such as National Artists Victorio Edades and Vicente Manansala. He belongs to an extraordinary batch at the University of the Philippines College of Fine Arts that has included National Artist Napoleon Abueva, Araceli Dans, Angel Cacnio, Rody Ragodon while National Artists Jose Joya and Federico Aguilar Alcuaz were underclassmen. Ironically, leaders of the Conservative School were his teachers, including National Artists Fernando Amorsolo and Guillermo Tolentino.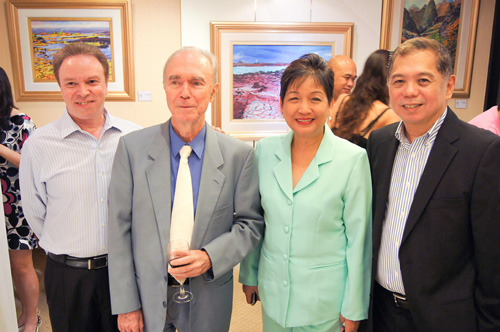 Mike Magee, Juvenal Sanso, Philippine Ambassador to Singapore Minda Cruz and Jack Teotico
In the "Sansó Moderno" held in Singapore on June 17, 2011 at GJ Asian Art, the artist's signature texture and vibrant hues finds its way back on Singapore soil. For his notable accomplishments in the arts across the globe through more than half a century, the 82-year old Filipino master was bequeathed the distinguished Cross of Isabela by the Spanish King, H.R.H. Juan Carlos I. This special award is akin to a knighthood or to the Member of the British Empire (M.B.E.) given by Her Majesty, the Queen of England in honor of the artist's contribution known the world over.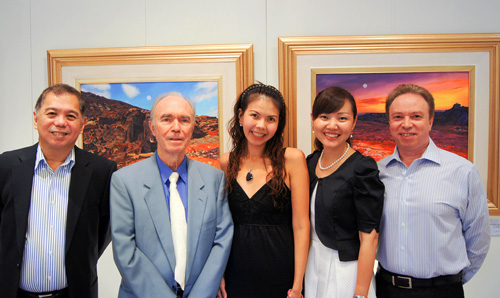 Jack Teotico, Juvenal Sanso, Chantel Tian, Jenny Tang and Mike Magee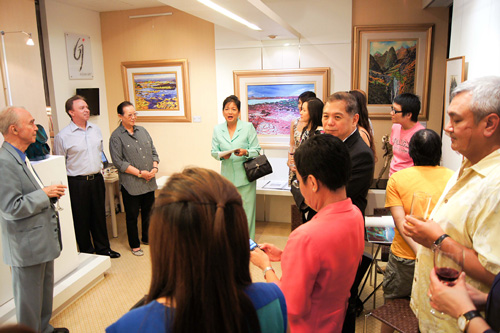 Ambassador Minda Cruz giving her remarks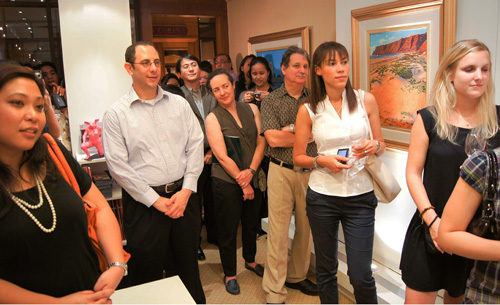 The gallery guests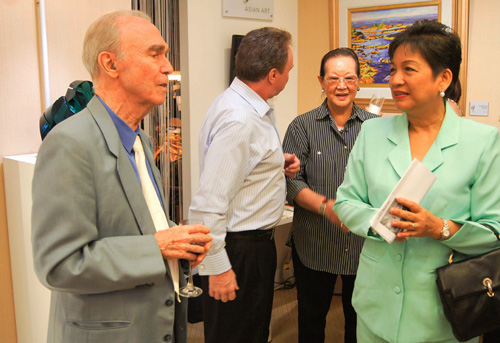 Juvenal Sanso talks to Ambassador Minda Cruz
In "Sansó Moderno", Sansó ushers in a new direction on his canvasses. 19 works, 15 of them of abstraction and landscape vistas as well as four from the artist's Black Period will be on display, showcasing a brilliant sample of the artist's prolific oeuvre of works. The works, culled from memories and the imagination of the artist, represent the very best of Philippine Modernism.

These include several abstract works as well as highly emotive works His paintings such as the One Majestic Trail (19.5" x 27.75" acrylic on canvas), The Strength of Optimism, (31.5 x 39.5 Acrylic on canvas), and Illuminating Dawn (20" x 28" acrylic on canvas), bring a new and modernist perspective on vistas that have meaningful to the artistshades shifting like the sunset, marked by contrasts of turquoise and golden yellow as well as hushed shades of violet and crimson.

To provide viewers with a backgrounder on how the artist's own life history and how events have helped shape his direction, four rare and vintage works coming from the artist's Black Period will also be displayed. It was Sansó's heart is deeply etched in a lifetime worth of art, reflecting the spirit of events and people around him. He recounts his life during the War, losing all his family's possessions, suffering from an injury during an artillery shell explosion and physical torment. This resulted in a period of gruesome, sinister images with heavy black strokes several years after the War, collectively known as the Black Period. Four of these rare and vintage works will be exhibited as well.

Through decades of healing and introspection, his warm cliffs and tranquil seas of Brittany, France, evolved into lively splashes of orange, red, bright green and blue in his current pieces.

"Sansó Moderno" opened June 17, 2011 at GJ Asian Art at The Regent Singapore located on 1 Cuscaden Road, Unit 01-03, Singapore 249715. Show runs until July 13, 2011. The evening's guest of honor was Philippine Ambassador to Singapore H.E. Minda C. Cruz. For details and inquiries, call 6725-3113, email contact@gjasianart.com, or visit www.gjasianart.com.