November 17, 2007

Tides of Fortune: A Tribute to Heritage and Friendship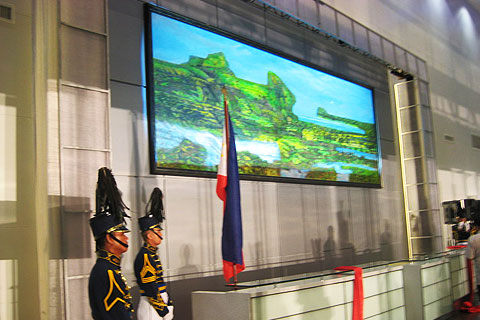 Sansó's mural "Tides of Fortune" at its new home at the SMX Convention Center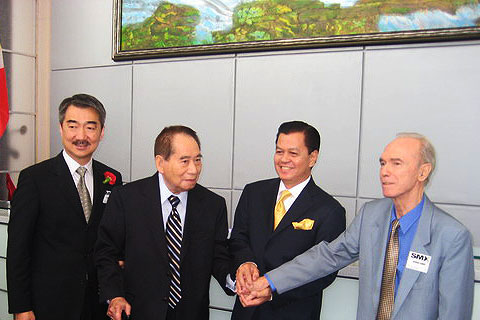 (L-R) Mr. Hans Sy, SM Holdings President, Mr. Henry Sy, SM Holdings Chairman and Sansó's childhood
friend, HE Noli de Castro, Philippine Vice President, and Master Artist Juvenal Sansó in front of his
just unveiled mural "Tides of Fortune"
Presidential Medal of Merit Awardee Juvenal Sansó, whose contributions to art and culture across national borders, who was also recently honored by King Juan Carlos I of Spain with the Cross of Isabela, unveiled his mural entitled The tides of Fortune at the SMX Convention Center last November 17, 2007.
It took the artist three months to complete the mural that now serves as the centerpiece artwork of the vast and modern complex, adjacent to the Mall of Asia, both owned by retail and real estate tycoon Henry Sy.
Both Henry Sy and Juvenal Sansó, who share a lifelong friendship that began in childhood as neighbors, trace their descent to the Philippines from foreign lands. Mr. Sy's parents were immigrants from China, while the Sansós migrated to the country from Spain when the artist was only four years old. Both families found a new beginning and prosperity in their new home; for many years, the Sansó family ran a successful business in ironworks called Arte Español while the Sys planted the seeds of what would eventually become the country's largest chain of department stores and malls. The SM Mall of Asia, recognized as the largest shopping complex in Asia, is part of that chain.
And throughout the years, over many social and cultural changes in their new home, the friendship grew. "The Sys and the Sansós were immigrants who brought something that grew here," shares the artist. "And The Tides of Fortune pays homage to the wonderful idea of this tide bringing new things."