September 12, 2013

SANSO "RARE AND ESSENTIAL" EXHIBIT CELEBRATING THE ARTIST'S 65th YEAR IN ART SET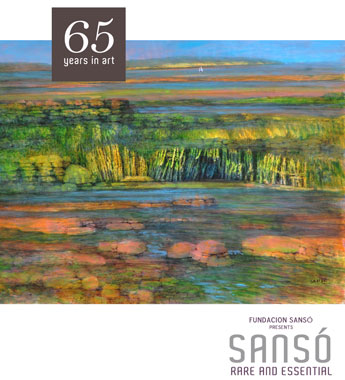 In celebration of Juvenal Sanso's 65th year in art, Fundacion Sanso has calendared an exhibit of rare Sanso works from the 1980s and the 1990s titled "Rare and Essential Sanso". The special event for the artist's friends and collectors has been set for September 12, Thursday 6:00 p.m. at the Manila A and B rooms of the Shangri la Makati Hotel.

Sanso, born in 1928 in Reus, Spain migrated to the Philippines with his parents and elder sister when he was four years old. He grew up and studied Fine Arts at the University of the Philippines as well as at the University of Sto. Tomas. Sanso won the Grand Prize in the Art Association of the Philippines watercolor competition in 1950 for his work Incubus" and repeated this in the oil competition in 1951 for his work "The Sorcerer". After the two back to back wins, Sanso left for further studies at the Academia di Belle Arti in Rome and at the L'Ecole Nationale Superieure des Beaux Arts.

Sanso lived in various part of Paris for over five decades, his last address being at a penthouse studio at the Rue Colonels Renard at the 17th arrondisement. Although Sanso has decided to come back home and live in his beloved Manila, this show is a homecoming for these rare works which form part of his personal collection and which the artist has only recently been brought back from abroad. September 12 is also a joyous occasion as it will provide an opportunity for the artist to introduce Fundacion Sanso to his public. Fundacion Sanso will be the institution that will establish art scholarship programs for deserving artists. It will also be undertaking educational information programs related to the arts.

Among the works to be exhibited in "Rare and Essential Sanso" are works from the various series and themes explored by the artist in his stellar career. These include works from his bamboo and baklad series, golden dawn and seascapes, Brittany, flowers in a vase, summer and water landscape series. For more information, please call 02-7239418 or 02-7239253 or visit www.galeriejoaquin.com

To enable the viewing public the opportunity to view the works in the collection, these rare pieces will be transferred for viewing to Galerie Raphael in Serendra Mall and Galleria Nicolas located at the 3rd Floor of Glorietta IV from September 13-25. To view the collection click here.