November 27, 2012

"PAINTINGS OF A NEW DAY" EXHIBITION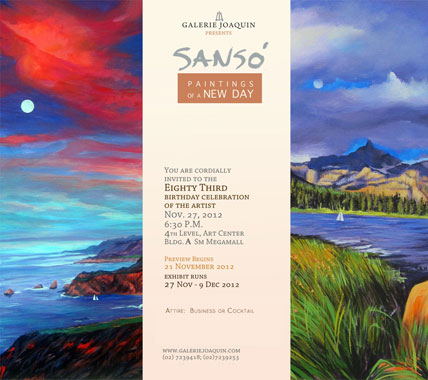 The break of dawn is an experience that symbolizes the hopefulness of a new day. As the soft light of the waking sun spreads its rays across the land, one can look upon the future with his eyes wide open, seizing upon the moment to capture all the opportunities that lie before him. Dawn is about new life, a new beginning. And for the sensitive dreamer, it is an apt metaphor for renewed vigor-a fresh opportunity for the artist to draw from one's emotions and explore new worlds. A new day is synonymous with hope, life, optimism, and new discoveries.

Modernist Icon and Presidential Medal of Merit Awardee Juvenal Sanso has long been that dreamer. The country's foremost expressionist has left behind all the angst that characterized his earlier works and has tapped into the primal happiness and calm of his emotions, and the past few decades has seen a kaleidoscope of different forms, figures, and colors. The effect is a journey that he shares with his audience-a uniquely personal and highly emotive adventure into the highs of a distinct and renowned artistic practice. And now, just as Sanso brings us with him into the skies, he parts the clouds and gives us a glimpse of the allegorical stars and the vastness of his skill. Happy with this new introspective period in his life, Sanso has found the dawn. Culling memories from his travels, he has begun painting vistas, sceneries, and panoramas through the prism of his imagination with his newfound joyful and exuberant outlook. Beginning this new direction twelve years ago, Sanso now takes us into a higher plane in the development of his practice with stronger works of bolder colors and exciting compositions.

Now, to celebrate his 83rd birthday and over 50 years of artistic brilliance, Galerie Joaquin will be hosting an exhibition of new Juvenal Sanso works entitled Paintings of a New Day. More than the sum total of an immense and immeasurable career, Paintings of a New Day signals the dawning of another phase in the artist's productive and prolific career.

A foremost master, Sanso has had a long and stellar career capped by a number of awards and recognition including a King's Cross of Isabella knighthood from the King of Spain, membership into the Order of Chevalier from the French Government, and a Presidential Medal of Merit from the Republic of the Philippines. His works are represented in the collections of some 40 museums in the world including the Philadelphia Museum of Art, the San Francisco Museum, The Art Institute of Chicago, The Cleveland Museum of Art, the Smithsonian Institute, the Museum d' Arte Moderne in Paris, the Rosenwald National Gallery of Washington, and the cultural Center of the Philippines. His collectors include the Rothschild Family, Nelson Rockefeller, Vincent Price, Elsa Schiaperelli, Jean Cocteau and many prominent, American, European and prominent Filipino families.