March 29, 2011

Sansó Moderno
A solo exhibit by Juvenal Sansó
Galerie Joaquin Main

In the recent past, internationally renowned artist Juvenal Sanso has found fresh inspiration in new places and new locations he has visited. His exposure to these wonderful vistas has resulted in an astonishing set of artworks whether these be landscapes of breathtaking colors or abstracts with a myriad of patterns. The results are simply amazing: new forms, new colors, new compositions. Sanso and Galerie Joaquin Main have put 35 of these unique artworks together in a show titled Sanso Moderno.

Sanso Moderno is a testament to the artist's being one of the foremost masters of modernism in Philippine art.

With over 60 years in a stellar career, only Sanso, the multi-awarded and internationally renowned artist can outdo himself. Sanso who has meritoriously earned three medals in the three countries he has resided in over the years has done a plethora of works proving time and again his boundless creativity and talent. His knighthoods include the King's Cross of Isabella from the King of Spain, the Order of Chevalier from the French Government and the Presidential Medal of Merit from a grateful Philippine Republic.
His Excellency the Spanish Ambassador Jorge Domecq and his wife, Juvenal Sanso and First Secretary to the Spanish Ambassador Antonio Garcia
Sanso Moderno shows Sanso at his very best. Highly motivated, highly inspired, energized and overflowing with passion for his art. Galerie Joaquin Main is located at 371 P. Guevarra St., corner Montessori Lane, Addition Hills, San Juan. Visit www.galeriejoaquin.com for more information or call Tel. (02) 723-9418 or 723-9253. Exhibit runs until March 30, 2011.

Modernism is an art movement that refers to an artistic style and philosophy that strongly separates itself from the classical past. It is a movement that emphasizes innovation and experimentation and a willingness to break established rules and norms. Artists found in modernism a platform to explore new ideas and novel ways of interpreting the world around them.

In the Philippines, modernism's father was artist Victorio Edades who spent almost a decade in the United States in the early part of the 20th century. Upon his return, he exhibited works that were strongly influenced by post-impressionist artists such as Paul Cezanne and European artists who migrated to the United States as a result of World War I. Edades was joined in his new found artistic philosophy by other Filipino notable artists such as H.R. Ocampo, Diosdado Lorenzo, Carlos "Botong" Francisco, Vicente Manansala, Cesar Legaspi to name a few. After the Second World War, the modernists found a home at Lyd Arguilla's Philippine Art Gallery (PAG). Many modernist exhibitions were held here and it helped stir up a strong interest among a second wave of modernist artists that include such notables as Anita Magsaysay-Ho, Nena Saguil, Romeo Tabuena, Macario Vitalis, Fernando Zobel, Jose Joya, Federico Aguilar Alcuaz and Juvenal Sanso.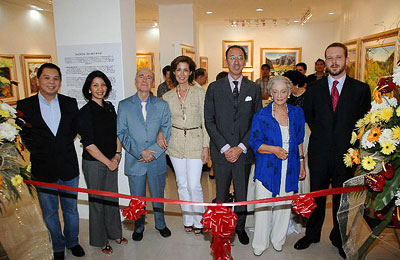 Jack Teotico, Daphne Kuok, Juvenal Sanso, Mrs. and Ambassador Jorge Domecq and First Secretary to the Spanish Ambassador Antonio Garcia
Sanso's works are represented in the collections of some 40 museums in the world including the Philadelphia Museum of Art, the San Francisco Museum, The Art Institute of Chicago, The Cleveland Museum of Art, the Smithsonian Institute, the Museum d' Arte Moderne in Paris, the Rosenwald National Gallery of Washington, and the cultural Center of the Philippines. His collectors include the Rothschild Family, Nelson Rockefeller, Vincent Price, Elsa Schiaperelli, Jean Cocteau and many prominent, American, European and prominent Filipino families.

In the Philippines, the artist has led many trailblazing projects. He held a major show at the MOPA titled Hymn to Water. A retrospective at the CCP, which was an impressive 1,000 work exhibition that was mounted in time for the IMF-World Bank meeting in Manila in 1976. It was a simultaneous six-venue exhibition mounted in three museums, two cultural centers and one art gallery. Among his recent unparalleled activities is the Sanso Festival, a 16-gallery exhibition at the Artwalk of SM Megamall, a landmark show titled "Sanso: A Show of Shows" in 2009 at the Gateway Suites at the Araneta Center and a show establishing his trailblazing art titled "Sanso: Pioneer of Expressionism" at the Art Center of MegaMall in 2009.