November 21, 2007

Sansů Awarded the Cross of Isabela by King Juan Carlos I of Spain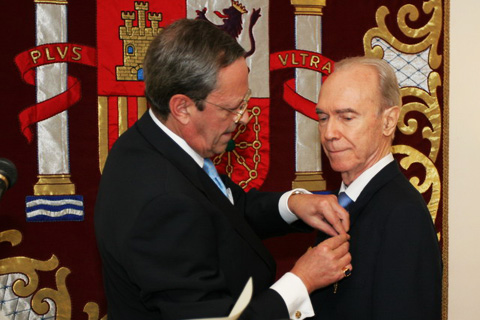 Artist Juvenal Sansů being pinned the Cross of Isabela on his lapel by His Excellency
Luis Arias, Spanish Ambassador to the Philippines, at the official turnover ceremony
held at the Ambassadorís residence in Forbes Park, Makati City
Internationally renowned artist Juvenal Sanso was recently awarded the distinguished Cross of Isabela for his outstanding accomplishments in the arts by the Spanish King, H.R.H. Juan Carlos I.
The special award is also in recognition of the artistís exemplary work across national boundaries, and is akin to a knighthood or to the Member of the British Empire (M.B.E.) given by Her Majesty, the Queen of England.
An official awarding ceremony, followed by a dinner reception, was held on November 21, 2007 at the Spanish Ambassadorís residence in Forbes Park, Makati City. Among the guests were distinguished members of the Spanish community in the Philippines and several of the artistís closest friends and avid collectors, including childhood friend Henry Sy, industrialist Don Jaime Zobel de Ayala, and Philippine Daily Inquirer Chairperson Marixi Prieto.
This is the second award of this nature that Sanso has received. Last June 2006, he was awarded the Presidential Medal of Merit by Her Excellency President Gloria Macapagal Arroyo.