May 19, 2011

TOWER CLUB, BELLAROCCA ISLAND RESORT AND SPA, HOLDS "SANSÓ: SCENES FROM THE BEAUTIFUL ROCK"
There are very few artists who can match the gravitas of internationally-renowned Juvenal Sansó. Holder of a Presidential Medal of Merit, and honoured with a plethora of awards, titles, and achievements including the King's Cross of Isabella knighthood from the King of Spain and membership in the Order of Chevalier bestowed by the French Government, Juvenal Sansó's works have been recognized not only for their contribution to the world art scene, but for the singular and brilliant vision of a truly exceptional artist. Painting for over half a decade, Sansó continues to create a remarkable tableau of images, landscapes, and abstract works that are known for their outstanding technique and incomparable concepts and visualizations.

Always in search of new places to enthuse his distinguished grasp of landscape painting, Sansó has found the beautiful island-resort of Bellarocca Island Resort and Spa (www.bellaroccaresorts.com) a charming and captivating place to inspire a series of works. The seaside cliffs, hills and the majestic Mount Malindig and the tranquil waters gave Sansó a wonderful new milieu to create his works.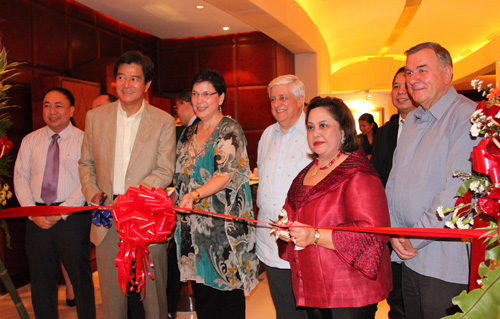 Allied Bank's Fol Rana Jr, DOT Secretary Alberto A. Lim, Atty Katrina Legarda, Genesis Hotel's Miguel Cerqueda, Louella Jurilla and Bellarocca Island Resort's Rudolf Studer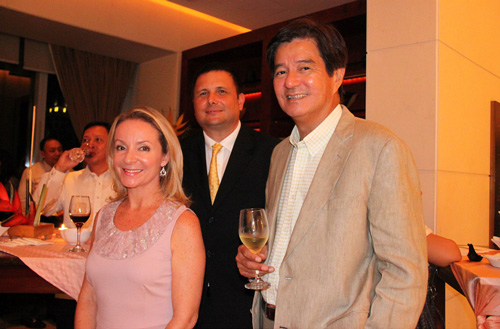 Sarah La'Brooy, Etiene La'Brooy and DOT Secretary Alberto Lim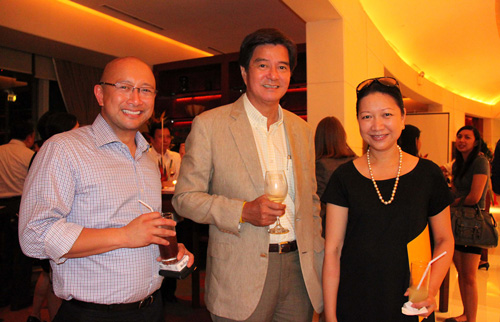 Bellarocca Island Resort and Spa's John Tanjangco, DOT Secretary Alberto Lim and
Travelife Publisher Christine Cunanan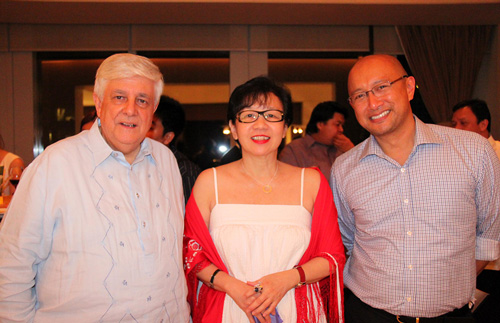 Genesis Hotels and Resorts President Miguel Cerqueda, Philippines Star's Ms. Grace Glory Go and Bellarocca Marketing Director John Tanjangco
Tower Club, Galleria Nicolas, and Bellarocca Island Resort and Spa, in partnership with Allied Bank/PNB Credit Cards and Contemporary Art Philippines, hosted a one-of-a-kind exhibition of 30 of Sansó's works inspired by the beautiful vistas of Marinduque and Bellarocca last May 19 in celebration of this astonishing artist. Open until June 2, 2011 the exhibit entitled "SANSÓ: SCENES FROM THE BEAUTIFUL ROCK" currently at Tower Club at the 33rd Floor of the Philamlife Tower, 8767 Paseo de Roxas, Makati City. Information may be acquired through Galleria Nicolas at their landline, (02) 7280124 and website, www.gallerianicolas.com.

Now The Tower Club (http://www.towerclub.com.ph/) counts itself in this montage of prominent galleries. Already a premium business club, with membership comprising of the notable leaders and movers in our society today, The Tower Club offers its members a wonderful cultural journey through the works of one of the most distinguished artists of our time.

Partnered in this exhibition were Allied Bank and PNB Credit Cards (http://cards.alliedbank.com.ph/) and their LuXeclusive Program, which allowed purchasing a Sansó artwork on fantastic, interest-free rates.

Additionally, each purchase made last May 19 entitled the collectors a chance to participate in a raffle for a 3days/2night's stay at the Luxurious Bellarocca. Bellarocca Island Resort and Spa offers Tower Club Members and Allied Bank credit card holders 30% off on bookings made during the exhibit period.

Experience Juvenal Sansó like never before. Visit "SANSÓ: SCENES FROM THE BEAUTIFUL ROCK". Proceeds from sales benefits the CHILD Protection Network Foundation.